Watch Fort Bonifacio, Global City in YOU TUBE
LOCATION..LOCATION..LOCATION..
Bonifacio Global City™ has an area of approximately 240 hectares, conveniently located in the forward looking city of Taguig, between the business hubs of Makati and Ortigas Center. It is also Manila's gateway to the world, barely minutes from Ninoy Aquino International Airport.
The district now boasts of a new masterplan that involved a major redesign of the amenities and features of its 36-hectare City Center to make the entire area more efficient and attuned to a new standard of urban living.
Here technology meets aesthetics. Transportation, communication, estate services and security are delivered reliably and seamlessly, leaving residents and visitors alike to do what they do best.
Bonifacio Global City™ was designed with no less than seven entry points from almost any direction:
Kalayaan Avenue (North)
Kalayaan Flyover (West access via EDSA and Makati)
McKinley Road (West access from Makati CBD)
Three gates from C5 Highway (East access)
From the Airport through Villamor Air Base (South access).
Mobility within the new Global City is likewise ensured via managed public transport system an efficient and pedestrian-friendly road network and more-than-ample parking provisions.
Transit stops are strategically located no more than a ten-minute walk to the City Center. Bus shuttle services provide direct links between the Bonifacio Global City™ and Metro Manila's Light Rail Transit system.
The new city center masterplan carefully considers traffic and circulation, diversity of land use, regional linkage, marketability of property and a unique sense of place. It enhances the business center of tomorrow to operate seamlessly. Infrastructure has been put in place to provide the most demanding residents with 21st century comfort and convenience.
The BONIFACIO GLOBAL CITY (BGC) Center forms the physical core of the BGC.
ased on the ongoing construction, Bonifacio Development Corporation (BDC) is prioritizing the development of the retail promenade which will be composed of several retail outlets/shops, surrounded by landscaped areas. As per BGC's Masterplan, "the City Center forms the physical core of the Bonifacio Global City, and is essentially designed as a three-by-three matrix of high-tech offices and residential buildings, bustling retail outlets and pedestrian-friendly roads and walkways.
The grid approach ensures a city center that is easy to navigate." A portion of the Retail Promenade is expected to be opened at the end of the year 2006.
Bonifacio Global City :
The Philippines' future premiere central business district
In April 2003, Ayala Land, Inc. and Evergreen Holdings, Inc. (owned by shareholders of United Laboratories, Inc.) completed the acquisition of a controlling interest in Fort Bonifacio Development Corporation (FBDC), principal developer of Bonifacio Global City (BGC).
Ayala Land has a track record for creating and sustaining successful business districts and large-scale integrated communities, including the Makati Central Business District.
The Campos group, through their real estate arm, Greenfield Development Corporation, has various property developments in the Edsa-Central area and Laguna.
Together, the partners lend FBDC stability and a wealth of experience in real estate development. Improvements to the masterplan are currently being planned in coordination with Ayala Land planners and top US-based consultants. This is expected to result in better traffic and pedestrian flow; more parking and transport facilities; and more parks/open spaces and other amenities.
An Orderly, Density-controlled Development
The design Standards and Guidelines (DSG) and Declaration of Covenants, Conditions and Restrictions (CCR) standardized the developments and protect the value and attractiveness of Bonifacio Global City.
Density is controlled to support a well-planned community and ensure that utilities are adequate to service the developments. The measure of density used is the Floor Area Ratio (FAR). FAR's range from 6-18 Retail components are allowed only up to a maximum of FAR 3 for Mixed-Use lots. Buildings with Residential components must have a minimum of FAR 4.
World-class Utilities
An underground drainage detention structure is in place to prevent floods in Bonifacio Global City. The structure can hold 22 million liters of water and release it under controlled conditions.
The fiber optic cabling network supports a wide range of telephone, video and data applications.
Electric power is supplied through underground lines. Meralco will construct power substations to ensure continuous supply in Bonifacio Global City.
Liquefied Petroleum Gas (for cooking and/or conditioning systems) is distributed through an underground piping system by Bonifacio Gas Corporation, which is managed by Pilipinas Shell.
The water and sewage systems managed by Bonifacio Water Corporation, a subsidiary of Veolia (formerly Vivendi) Philippines. Large water reservoirs assure strong water pressure 24 hours a day, 7 days a week.

Have You Seen Fort Bonifacio Lately? Watch the Video Clip in YOU TUBE
Why you should invest in the Bonifacio Global City?
9 Reasons on why BGC is the best location for your condo investment...
The growth in the Philippine real estate industry is very bullish! At the Bonifacio Global City alone, you can feel the good vibes for the industry!
I have compiled here several news articles from major Philippine broadsheets (ie, Philippine Daily Inquirer, Philippine Star, Manila Bulletin, Business World, Business Mirror) regarding the ongoing and future developments at Bonifacio Global City (BGC/aka Fort Bonifacio.)
All these reinforces the idea that Bonifacio Global City (BGC) is the best location for your condominium investment!
The construction of the St. Luke's Hospital is full-blast. Based on news reports, St. Luke's Hospital will be finished by 2009. Comment: Admittedly, this is a relief - construction of the hospital was delayed for more than a year! The presence of a first-class hospital at Bonifacio Global City will further strengthen its bid as a new Central Business District (CBD) in the Philippines.
The Philippine Stock Exchange (PSE) said that its board has authorized the management to enter into a memorandum of understanding with two property developers for a joint development of the bourse's headquarters in Fort Bonifacio in Taguig City. Actually, a 2,182 sqm lot has already been donated by the Fort Bonifacio Development Corporation to the PSE. However, they can swap this lot for office spaces which will be equivalent in value that Ayala Land will construct at the BGC area. Comment: Good news indeed! Currently, the PSE has 2 trading floors, one in Ortigas Centre (ie, Philippine Stock Exchange Centre, formerly called Tektite Towers) and another one at the Makati Central Business District (ie, Ayala Tower One at Ayala Avenue). The presence of a unified trading floor will really make Bonifacio Global City (BGC) a true-blue Central Business District. Ayala Land may construct an office tower at BGC equivalent to the Ayala Tower One at Makati City and turn over the "x" square meters of office space to this unified exchange. I've heard that this might happen in 2010. It's about time!!!! Let's see!
The Ascot Group of Singapore, the hotel group which purchased the former Oakwood Premier Hotel (at $ 54 Million) located at the Ayala Center, Makati City, is considering the Bonifacio Global City as one of the locations of their hotel operations. No specific details were provided. Comment: At the moment, there's no hotel at the BGC. I'm really looking forward to this new development!
SHIMAO Group, a developer owned by China's fifth-richest man, Xu Rongmao, will put up a hotel at Fort Bonifacio. Shimao International Holdings Ltd Chairman Hui Wing Mau has signed an agreement to lease at least one Manila property from state-controlled Bases Conversion Development Authority, Trade Secretary Favila said. The property, which covers at least seven hectares, is in Manila's Fort Bonifacio district, Favila said, declining to provide more details.Comment: Good news! Just imagine how many jobs this can provide! I believe that aside from the Ascot and Shimao Groups, there are also other hotel groups which are "silently" exploring the BGC area.
American business process outsourcing provider PeopleSupport Philippines, Inc. has acquired a 2,700-square meter lot in Taguig from the Fort Bonifacio Development Corp. (FBDC) as part of its plan to expand its operations in the country. Company President Rainiero Borja said the property will house a 25-storey call center building. PeopleSupport expects to break ground this year, Mr. Borja said. Comment: The Business Process Outsourcing (BPO) industry in the Philippines is indeed growing. Honestly, the current supply of office space is not enough to meet the needs of this industry. Most office buildings now at the BGC are occupied by these BPO companies.
Singaporean company invests P2b for IT building Singaporean real estate developer Ascendas and the Net group, a consortium led by the Rufino Group, are infusing P2 billion to construct a new office building designed for business process outsourcing companies and call centers at the Bonifacio Global City in Taguig. Ascendas president and chief executive Chong Siak Ching said the construction of the 36,000-square meter Net Quad, the fourth in the series of boutique Net buildings, was in response to the growing demand for high-quality business space in the Philippines amid a boom in call center and BPO sector. Carlos Rufino, president of the Net Group, said the Net Quad building had been 100 percent leased out even before its groundbreaking ceremony yesterday attended by Singaporean President Sellapan Rama Nathan. Comment: This group has practically dominated the construction of office buildings at the BGC. There's Net One, Net Square, Net Cube (under construction and will be finished this 2007) and the latest is Net Quad. According to some insiders, this group will be constructing buildings up to Net 8!!!!
Federal Land to complete master plan for northern part of Fort Bonifacio Federal Land, Inc. tapped global design firm Hellmuth, Obata & Kassabaum, Inc. (HOK) International Ltd. to complete a master plan to develop the northern part of the Bonifacio Global City in Fort Bonifacio. In a statement, Federal Land President Alfred Ty said the master plan covering 25 hectares in North Bonifacio is expected to be completed in 15 weeks. It will consist of a 10.4-hectare property owned by the country's largest lender Metropolitan Bank & Trust Company (Metrobank) and two lots totaling 15.3 hectares of state-owned Bases Conversion and Development Authority (BCDA). Comment: I heard that Federal Land will be putting up an office building targetting the BPO industry.
Science museum to rise on former military base THE AYALA Group will be putting up a science museum at the Bonifacio Global City, to bring to it a measure of art and culture. Officials said during the launch of Bonifacio High Street late last week that the science museum, which is still in the early planning stages, will be located across the group's upscale Bonifacio High Street development--a kilometer-long strip of chic shops and restaurants a stone's throw away from The Fort and Market! Market! Comment: This will be really cool! On the other hand, I'm also looking forward to an Art Museum at BGC - something similar to the Metropolitan Museum of Art at Manhattan!
3 Developers keen on Big Delta property in BGC
THE THREE GROUPS ARE TARGETING PRIME LOTS
FOR BIG COMMERCIAL DEVELOPMENT THREE international developers have expressed interest in the 1.2-hectare Big Delta property inside the Bonifacio Global City (BGC) which the Bases Conversion and Development Authority (BCDA) did not manage to dispose last year due to a failed bidding. Aileen Zosa, vice president for business development of the BCDA, refused to reveal the names of the three firms, although she said these groups are targeting the prime lots for grand commercial development. One of these firms, she said, is planning to build a six-star hotel there. The Big Delta property, located inside the BGC's City Center, is being offered for lease or joint venture development with the BCDA, she said.Comment: Looking forward to this "grand commercial development" at Big Delta! Bonifacio Global City (BGC) is poised to be the next Central Business District (CBD); it is a master-planned CBD and based on these new developments, condo buyers and investors will defintely benefit in the property value appreciation at BGC.
Hands down, Bonifacio Global City (BGC) is the BEST CHOICE for your property investment!
ST. LUKES MEDICAL CENTER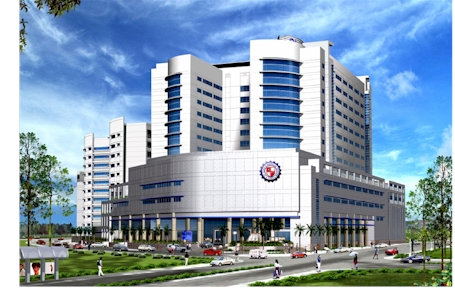 PERSPECTIVE VIEW
Click
here
to view our
FORT BONIFACIO
lists of Projects